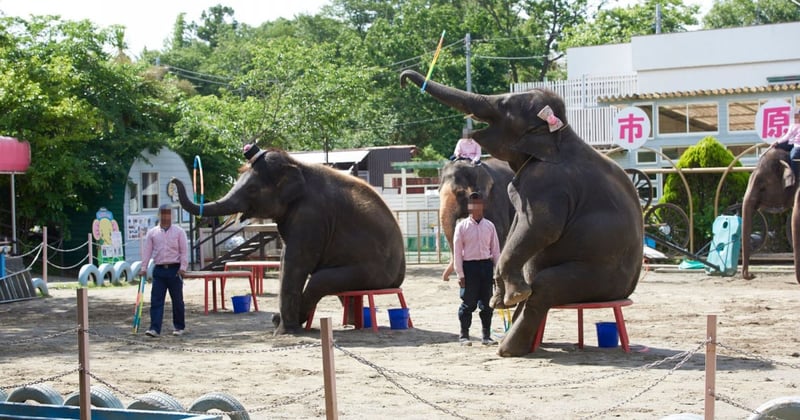 Cruelty rampant in 'top' zoos according to new research
Press release
Cruelty rampant in 'top' zoos according to new research
Wild animals are being abused and forced to endure appalling suffering by some of the world's 'top' zoos as they irresponsibly and routinely exploit them for visitor entertainment. This is according to a first of its kind study, 'The show can't go on' by World Animal Protection and Change for Animals Foundation.
The research which is a global survey, investigates zoos and aquariums that are members of WAZA (World Association of Zoos and Aquariums) - the global umbrella organisation for zoos and related institutions, set up to guide, encourage and support venues in wild animal care and welfare. It reveals that of all WAZA's 1,200 linked venues, 75% of them offer at least one animal visitor interaction including some truly horrific cases that have no place in modern zoos and aquariums.
The research included field visits to a dozen zoos that showcase animals being cruelly used in demeaning experiences, focusing on big cats, dolphins, elephants and primates. Specifically, the study discovered big cats in gladiator-style shows in large amphitheatres [1], dolphins being used like surf boards [2], elephants playing basketball [3] and clothed chimps in nappies, driving around in scooters[4]. All activities that would require cruel training techniques of these wild animals.
Dr Neil D'Cruze, Global Wildlife Advisor at World Animal Protection said:
"Seeing wild animals perform in circus-like shows is not just a bit of fun. For the animals in these 12 irresponsible zoos, and potentially many others globally, what might be seen as an enjoyable activity on a day out for the family, means a lifetime of suffering for these animals. Cruel and demeaning visitor attractions simply have no place in any modern leading zoo or aquarium."
Harry Eckman, Director, Change for Animals Foundation, said:
"All of these ridiculous activities represent a clear and present danger to the wild animals involved. Circus-like shows and elephant rides typically involve harsh training methods to establish dominance and the use of wild animals as photo props can inflict stress and injuries."
Audrey Mealia, Group Head of Wildlife, World Animal Protection said:
"Seeing wild animals being used purely as circus acts and photo props was more like a horror show. This research makes the case clear that WAZA needs to act urgently to stop cruel and demeaning attractions getting away with everyday cruelty - these ridiculous activities should be a thing of the past. Tourists visiting a WAZA-linked venue should be able to trust they are not inadvertently supporting cruel animal attractions. Sadly, currently this is not the case."
In the absence of a single global regulatory body for wildlife tourism, visitors may unknowingly be putting their trust in WAZA linked venues. World Animal Protection and Change for Animals Foundation want holiday-makers and other visitors to reconsider visiting and sharing pictures at irresponsible zoos and aquariums. These organisations are now are moving people to take a stand, be part of the solution, and boycott venues that offer cruel interactions. This will send out a clear message – that treating animals this way is not acceptable. 
For those that want to go the extra mile, the charities are also encouraging people to email WAZA asking them to ensure that they stand up for the animals suffering in member zoos and aquariums. 
WAZA prides itself as an organisation that sets the bar high for zoos aspiring to be modern and upholding high animal welfare standards. Their guidance states that members should not involve animals "in animal shows, displays or interactive experiences where animals perform demeaning and unnatural behaviours". Yet our research exposes how WAZA is not enforcing rules and zoos are seriously falling short of their commitments to animal welfare.
The best place to see wild animals is in the wild. However, if people want to visit a zoo, World Animal Protection recommends to not go to venues which allow:
you to ride, touch and bathe a wild animal

to take photographs with wild animals being used as photo props

to see wild animals perform in circus-like shows

to see animals in clothes or exhibits that are unnatural or human-like

any opportunities for animals to have to interact with people or staff repeatedly for the duration of the day.
Read the full report here
[1] This can be seen at Puy du Fou - France
[2] This can be seen at Zoo Marine - Portugal
[3] This can be seen at Ichicara Elephant Kingdom - Japan
[4] This can be seen at Avilon Zoo - Philippines
Audrey Mealia, Group Head of Wildlife, World Animal Protection said: "Seeing wild animals being used purely as circus acts and photo props was more like a horror show