High animal welfare on farms
No future for factory farming
We work with the food industry to improve farm animal welfare and keep animals in an environment where they can benefit from a life worth living
Farm animals raised humanely are healthier
World Animal Protection is committed to ending the unnecessary cruelty and suffering of farm animals by ensuring they are raised humanely.
We work to improve farm animal welfare and campaign to change the most intensive forms of farming.
By re-educating the farming industry on the humane treatment of animals and the vast benefits of farm animal welfare, the unnecessary suffering of farm animals can be prevented.
Farm animal cruelty and suffering must stop. For good.
Making farm animal welfare top of the agenda
Higher welfare farming is better for everyone
We work with the food industry, policymakers and consumers to campaign for farm animals and show that farming can be humane, sustainable and profitable.
Animals live longer, healthier and more active lives. Higher welfare farming can also be less damaging to the environment, and it can be more lucrative for farmers too.
We work to ensure farmed animals are protected and live a life worth living by shifting attitudes towards the global food system and campaigning for improved farm animal welfare.
It is essential that we continue to shift attitudes toward the treatment of farm animals and educate those in the industry on farm animal welfare legislation.
The benefits of farm animal welfare
Bringing about change to improve farm animal welfare has countless benefits to animals, people and the environment:
Raising animals humanely can use less feed, fuel and water than intensive farming, reducing costs and pollution
Higher welfare farms can create jobs, boost profits and keep local food supplies healthy
By farming crops and livestock, higher welfare farms can reduce environmental damage – recycling nutrients and improving the soil
Greenhouse gas emissions are often reduced when animals are healthy and have good welfare
Farm animal welfare: Our work
At World Animal Protection, we help companies and farmers to adopt farming methods without close confinement of animals, as these cause pain and distress.
We help to create conditions where animals are more able to express their natural behaviours, and move freely, which reduces the need for painful practices like tail docking (which is used to stop crowded pigs from attacking each other in intensive farms).
Together, we can safeguard farmed animals and ensure they live better lives. Forever.
Our ambition
Unnecessary farm animal cruelty and suffering must end. For good.
Through shifting attitudes and re-education, we can safeguard farm animals, encourage higher welfare farming, and protect our planet.
Are you ready to take action?
Join our mission and change the way the world works through people's power. Take action today and support our efforts to increase farm animal welfare and stop farm animal cruelty and suffering. Forever.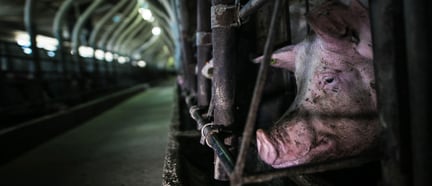 World's worst factory farming giants ranked on their greenhouse gas emissions compared to vehicles on the road
On World Health Day, World Animal Protection launches a new report that lays bare the most damaging human health impacts linked to factory farming.
As demand for meat and dairy grows around the world, the global trade in destructive crops to feed factory farmed animals spells misery for farmed and wild animals alike.