World Bear Day
World Bear Day is observed around the globe on March 23rd and celebrates all bears, regardless of species.
Read on to learn more about these much-loved mammals, their threats, and what you can do to help.
World Bear Day celebrates all eight species of bear:
The North American black bear
The Asiatic black bear
The Brown bear/grizzly bear
The giant panda
The polar bear
The Andean bear/spectacled bear
The sloth bear
The sun bear
Six of these species are threatened or vulnerable by the IUCN (Red List of Endangered Species).
5 facts about Bears
Bears live a solitary lifestyle, apart from mothers and cubs.
Bears have an omnivore diet of fish, nectar and insects.
Adult grizzly bears can run up to an incredible 35-40mph - the same pace as a greyhound.
Bears are often seen as ecosystem engineers as they enrich soil, balance the ecosystem and disperse seeds.
The illegal wildlife trade and loss of their natural habitats is the most significant threat to bears in modern times.
How bears have been and are being cruelly exploited:
Bear Bile
Living bears in Asia are farmed for the bile in their gallbladders. The bile is sold for traditional medicine. These bears are often in cages no bigger than phone booths for their entire lives; they often moan and rock due to extreme anxiety. All methods of extracting bile from live bears cause severe distress and pain.
Bear Dancing
Captive bears, often stolen from the wild as cubs, are forced to 'dance' for tourists on the streets as a form of begging. They are trained through extremely cruel techniques.
Bear Baiting
Bear baiting is an illegal and inhumane bloodsport where bears, unable to defend themselves, battle against trained dogs for entertainment. These bears suffer unimaginable injuries and rarely live beyond eight years old.
Kainat, meaning 'the universe', is a beautiful seven -year old Himalayan brown bear who has been surrendered to BRC in November 2017 from the Punjab Province. She has been used for baiting for about five years.
How can I celebrate World Bear Day?
As a global event, World Bear Day is observed in many different ways. It doesn't matter where you live, or whether you're an individual or business, you can celebrate by:
Sign up for our newsletter and prepare for our calls to help change legislation and end the cruel practices affecting bears.
Teach others about the intelligence of bears: the more we learn about the minds of animals, the harder it is to justify the practices we use that cause them to suffer.
Raise awareness about the alternatives to bear bile use in traditional medicine, including herbal and synthetic products, which are readily available, affordable and effective.
No matter your nationality, religion, or faith, you can be involved with this important day.
Discover our current campaigns and past successes for bears: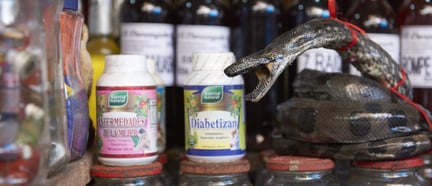 Ending commercial exploitation
Ending the exploitation of wild animals used in Traditional Medicine
Wildlife
Would a real responsible traveller have captive wildlife entertainment on their wish list?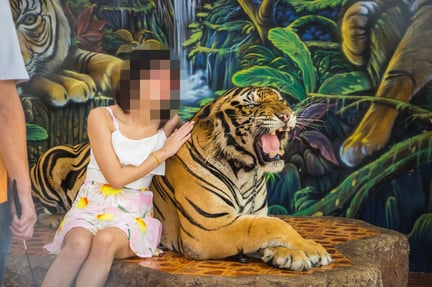 Wildlife
Together we can drive down consumer demand and expose the lies of businesses that profit from cruelly exploiting wild animals.
Bear FAQs
Are bears wild animals?
Bears are wild animals found in the forest and mountainous regions of North America, South America, Europe, and Asia. Sadly, not every wild bear gets to live freely. Bears remain imprisoned and abused around the world.
Are bears intelligent?
Bears are sentient animals with thoughts, feelings, and individual personalities. They are highly intelligent animals, shown to grieve deeply and show altruistic behaviour in sharing food with unrelated bears during food shortages.
What are the physical characteristics of bears?
Bears commonly have large bodies, large paws, long snouts, small rounded ears, and shaggy hair. They are brown, black and white. They range in size from 4-8ft and 60-1000 pounds.
News
A coalition of organisations including World Animal Protection, Education for Nature Vietnam (ENV) and Four Paws, have renewed fresh calls to the authorities in Hanoi to take decisive action to end bear bile farming in Vietnam in a media briefing held today.
News
Starting this summer, World Animal Protection's animal welfare guides will be integral to the Spies Group's overall sustainability policy.
News
Mistreated Masha, who spent 19 years in a Ukrainian circus, has finally found freedom in Romania.
Blog
The three bears were the last remaining bile bears in Lang Son and the province is now the 34th bear-free province in Vietnam.
Blog
If you're bored or hoping to bring some positivity to your day, try spotting some of Libearty sanctuary's 106 rescued bears.
Blog
People often try to tell us it's impossible to save wild animals from poaching, wildlife entertainment and trade. That's when I draw strength from the work we do to protect bears.