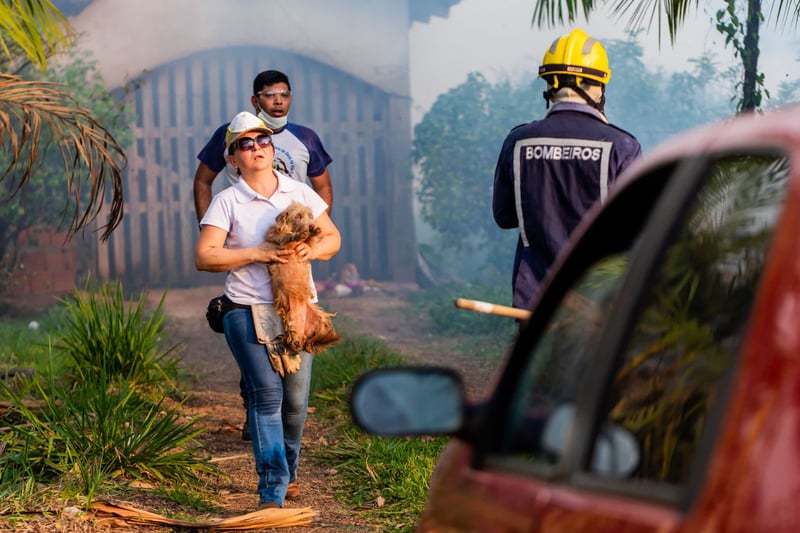 Amazon fires: our team of vets is in rainforest urgently protecting animals
News
Some of the world's most iconic animals – such as jaguars, ocelots, tapirs, sloths, river dolphins, macaws, parrots, and anacondas – as well as pets, are grave risk as fires continue to blaze through the Amazon rainforest. We're working with local authorities and rescue centres to help
We estimate that millions of wild, even endangered animals are being killed, affected or suffering. However, official numbers are not yet available. Given the vastness of the area on fire, as well as the political climate, it may not be known for a long time.
One thing is clear from our assessment: animals are in a critical situation.
Thousands are already dead, and others are being left to suffocate and burn. Those displaced by the fires are vulnerable to poaching.
While disaster response rightly prioritises people's immediate needs, wild animals in the Amazon – 10% of the total biodiversity on the planet – are currently the forgotten victims, and they also need urgent care.
Our disaster team's urgent work
We have been working with a team of veterinarians and CETAS animal rescue centre in Rio Branco (Acre state).
We're helping pets and wild animals in the Amazon rainforest by:
Running an assessment of animal impact and needs with CETAS animal rescue centre
Providing training and equipment for fire fighters working in the fires, to help them rescue surviving animals
Assisting injured animals and meeting their survival needs
Providing emergency vet kit items for animals in disaster zones, such as dressings and treatment for wounds, treatment of diarrhoea, pneumonia and other diseases
Assisting with the rehabilitation and eventual release of animals for those who will be able to return to the wild
Assessing the wider and longer-term needs for animals affected by the Amazon rainforest fires, in partnership with local NGOs and government agencies
Fire brigades working hard
Fire brigades are focussing on containing the fires. While they do this, they are coming across some surviving animals – mostly the slow-moving species such as sloths, snakes and anteaters. Birds are also impacted because they have nests at the top of the trees.
Without training and the right equipment, the brigades have been unable to fully support with rescuing animals, which is why we decided to share our knowledge with them.
Our global animals in disasters director, Gerardo Huertas, said:
"Tackling the fires where possible must also be concurrent to an absolute ban on setting new ones – something even the national government of Brazil has called for.
"The Amazon acts as the lungs of the world – if the environment suffers, then so do the animals — often the forgotten victims in disasters."
The executive director of World Animal Protection Brazil, Helena Pavese, said:
"We cannot be silent with the current situation in Brazil – as an international organization, we have come together with other institutions with similar values to rebut the acts and accusations from the Federal President.
"It's fundamental that the Brazilian government reacts with absolute force to end these fires. It's clear that the damages and losses caused will be irreparable to the Brazilian fauna, national and international communities."
The Amazon rainforest's future
The Amazon rainforest is home to 427 mammal species, 1,300 bird species, 378 reptile species, and more than 400 amphibian species.
Concerns have been raised that the impact to animals and ecosystems will be devastating.
The Amazon fires come as a result of a new political position in the Brazil federal government. This has led to weakening of environmental laws, deforestation, illegal fires and lack of monitoring and control.
Urgent action is needed by the government to stop this disaster before it reaches a point of no return.
The Amazon acts as the lungs of the world – if the environment suffers, then so do the animals