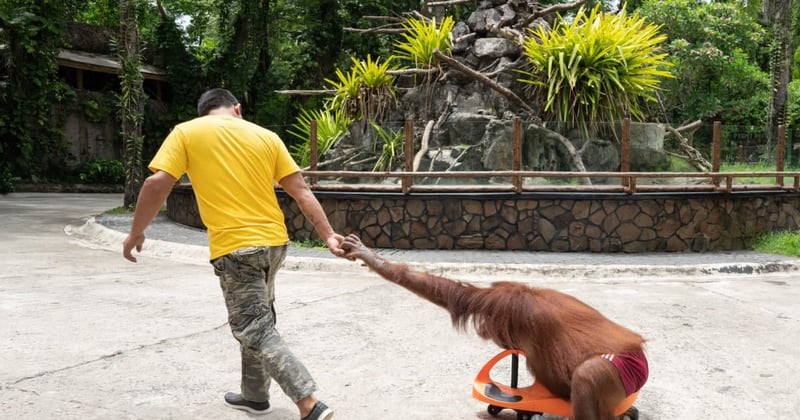 Cruel wildlife performances continue at world zoo association's member venues
News
Wild animals are continuing to endure appalling suffering at some of the world's 'top' zoos and aquariums – all associated with the World Association of Zoos and Aquariums (WAZA).
Big cats in gladiator-style shows, dolphins used as surfboards, elephants playing basketball and orangutans dressed in diapers driving on scooters.
These are just some of the cruel performances that wild animals at WAZA's associated zoos and aquariums are forced to endure.
Our report, The show can't go on, published in July 2019 and based on research we carried out with Change for Animals Foundation, found that 75% of WAZA's venues offered at least one type of direct interaction between visitors and animals.
Raising our voices for wild animals
Over 40,000 people around the world have already emailed WAZA's CEO, asking him to implement actions that guarantee animal welfare at its member attractions.
Unfortunately, WAZA has not yet committed to our supporters' request.
WAZA members are meeting for their annual conference in Buenos Aires, Argentina, this week.
We will be there, raising our voices for the animals who are suffering at the WAZA's member zoos and aquariums.
The time is now for WAZA to end cruel and degrading wildlife attractions and commit to implementing an updated animal welfare policy.
Neil D'Cruze, our global wildlife advisor says: "WAZA says it offers leadership and guidance to 'the world's leading zoos and aquariums', so it should take proactive actions to ensure that its members follow their animal protection guidelines.
"Attractions and activities such as those evidenced in our report do not have a place in modern zoos. It's time for WAZA to demonstrate responsible leadership."
Existing guidelines
WAZA has 282 direct members and approximately 1,200 associate members.
WAZA's current guidelines dictate that members should not involve animals in "shows, exhibitions, and interactive experiences where animals are forced to have degrading and unnatural behaviours."
As our report demonstrates, many of their associated venues do not follow these guidelines.
Take action
Your voice is crucial in helping achieve a real commitment from WAZA.
Email the association's CEO now.
Keep an eye out on our social media for updates from Argentina.
WAZA's annual conference is the ideal time for it to finally make the decision to end cruel and degrading wildlife attractions at its associated venues.