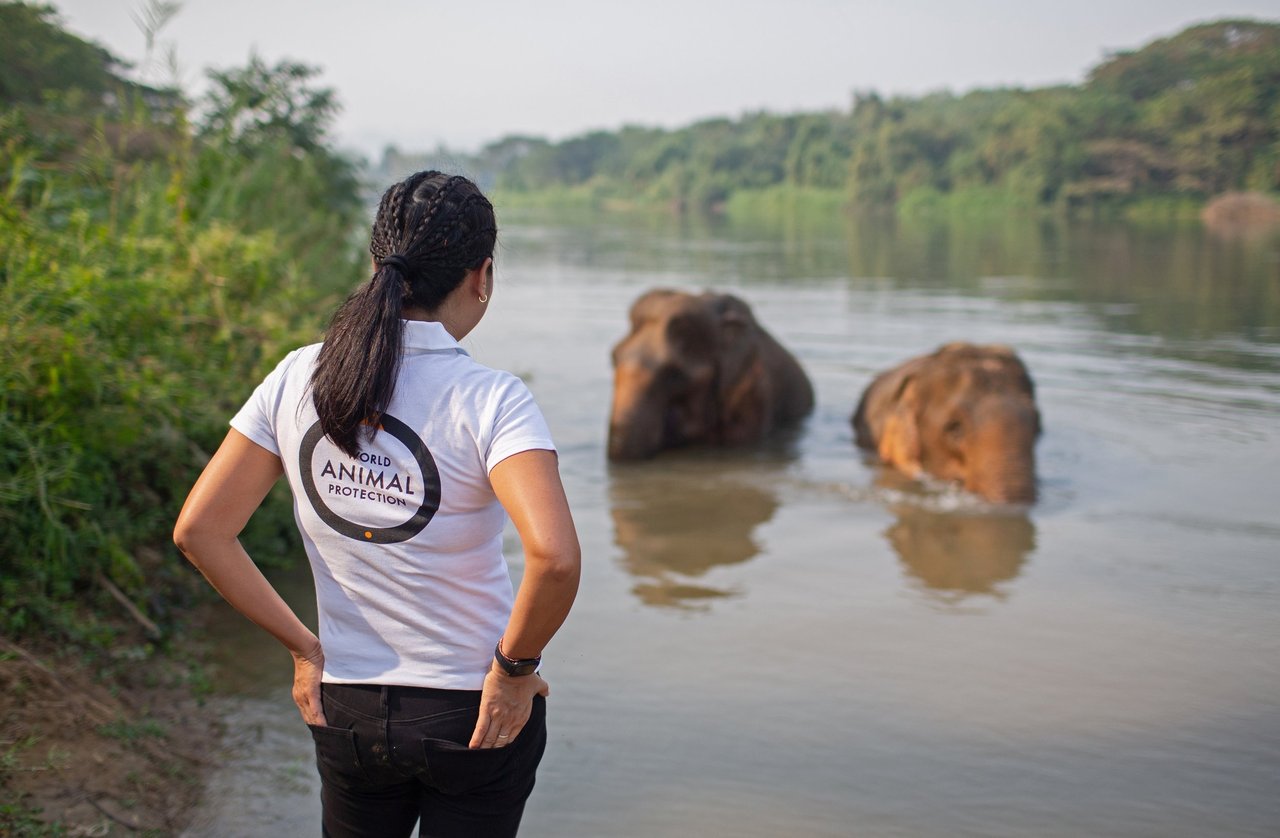 Become a wildlife friendly organisation
Travel & tourism
Email us
We've helped hundreds of travel companies and wildlife venues improve their practices to protect wildlife.
We have the expertise and tools to help you ensure your offers respect animals and the people whose livelihoods may depend on them while still providing a unique wildlife experience.
Rebuilding the tourism industry to be more resilient and responsible
Covid-19 challenged us to create change. The pandemic has shone a harsh spotlight on how people treat wild animals. The catastrophic impact of wildlife exploitation has affected our health, economies, planet and the travel industry, in addition to causing the suffering of millions of animals worldwide. There can be no going back to what once was.
As a member of the tourism industry you can help prevent another pandemic, secure your livelihood, and help keep wild animals in the wild by becoming wildlife-friendly. This involves phasing out wildlife entertainment from your supply chain and offering responsible tourist experiences instead.
At World Animal Protection, we work with the tourism industry to promote these solutions. We share our expertise and tools to help travel companies ensure their offers respect animals, while still providing unique wildlife experiences.
Be part of the change
You can help rebuild the tourism industry to be more responsible while meeting customer needs and helping end captive wildlife entertainment for good.
Elephant rides, tiger selfies, walks with lions, monkey shows, swimming with dolphins – each 'once-in-a-lifetime' opportunity for a tourist means a lifetime of suffering for animals.
As travellers are becoming more aware of the cruelty involved in these and other wild animal experiences, their attitudes are changing dramatically.
Increasingly, travellers are choosing holidays based on how animal-friendly they are:
87% believe wild animals belong in the wild where they can live naturally
85% would prefer to see animals in the wild
81% think people should not make an income from keeping wild animals if the animals suffer
As a responsible leader in the travel industry, we know you want to adapt to continue to provide meaningful customer experiences.
It can be hard to tell what's truly wildlife-friendly in tourism, let alone how to incorporate this into a business, which is why we are here to help.
A vision for responsible wildlife tourism
Together with World Cetacean Alliance, Whale & Dolphin Conservation, Humane Society International and Born Free Foundation, we developed a united vision for whales and dolphins in tourism.
A vision for whales and dolphins in tourism
The travel industry can play a key role in a responsible future for whales and dolphins, by promoting only experiences where they can be viewed through responsible, respectful wild-watching experiences and sharing our vision that keeping these intelligent and complex animals in captivity for entertainment is unacceptable.
Supporting sanctuaries
For those currently in captivity, we support the development of sanctuaries and ending captive breeding and wild capture to ensure this is the last generation of captive whales and dolphins.
With help from us and some leading travel companies, two elephant venues in Thailand have transitioned into elephant-friendly and stopped visitors directly interacting with their animals. ChangChill and Following Giants offer a better life for the elephants and a unique experience for visitors without the inherent cruelty of direct interactions.
This video shares the story of how ChangChill was transformed.
10 steps to becoming a wildlife-friendly venue
Commit to animal welfare by taking World Animal Protection's Wildlife-Friendly Pledge. Consider communicating this intent to your customers and the public to encourage a wider shift towards more ethical wildlife tourism.
Assemble a group of enthusiastic colleagues to lead organisational changes and embed animal welfare into your company's business operations.
Review your animal-related product offerings. Activities that negatively impact animal welfare and the conservation of species in the wild, and that can be of high risk to the health and safety of your travellers include direct interaction with wild animals and wild animals performing.
Assess the value of these activities and start to look for non-animal and ethical animal alternatives, such as watching animals from a safe and respectful distance in their natural habitats or at a true sanctuary where the animals are not bred or traded.
Start conversations with your suppliers to help them understand that change is needed and that you are looking for responsible alternatives to replace wildlife entertainment activities. Remember that while ethical experiences exist, a company like yours can help phase out wildlife entertainment by asking ground suppliers to stop commercial breeding and trade while improving the conditions of those animals already in captivity.
Develop an animal welfare policy and ask suppliers to plan a phase out of any activities and attractions that are no longer acceptable as part of your product offers. A good policy will help ensure you are assessing animal-based tourism consistently with the latest scientific information and mitigate the risk of being criticised for not doing enough.
Train staff on animal welfare. World Animal Protection has training modules, checklists and research that will allow your staff to identify cruel attractions and activities, understand truly ethical wildlife experiences, and own your company's animal welfare policy.
Speak out about your company's commitment to animal welfare and educate your customers on how to be animal-friendly travellers. Education is vital to shift demand towards responsible tourism.
Join forces with other travel leaders to build a responsible and resilient travel industry. By creating and promoting truly ethical alternatives, which together reduce demand, will lead to a gradual phase out of captive wild animals used for tourism entertainment.
Annually reevaluate, monitor and report on your animal welfare strategy. We encourage you to continue to update and improve your policy and ensure it's being fully implemented across your organisation and supply chain.
We're here to guide and support you along the way: