Wild Animal Personality Award 2023
Celeste is our Wild Animal Unique Personality Award Winner
Celeste is the 2023 winner of the Wild Animal Unique Personality Award. This award celebrates animals' personalities, while raising awareness that they should not be objectified and seen as mere commodities. They are all individuals.
A playful spirit
Celeste absolutely loves diving and looking for pieces of wood in the water - but she only does this when she thinks no one is watching. She loves to play with the wooden pieces in her enclosure and play in the water with them.
She is a cub who was separated from her mother, but she still loves to play and learn.
Las Pumas Sanctuary and Rescue Center
Her home is at the Las Pumas Sanctuary and Rescue Centre in Costa Rica. This sanctuary rescues all types of wild animals, and the rescue center assesses the animal's conditions and rehabilitates them for release back into the wild.
If an animal cannot return to the wild due to injury or being domesticated as a pet, they are placed in the sanctuary, where they will have their own natural enclosure to live safely within.
What the award means for Las Pumas Sanctuary
The mission of Las Pumas Rescue Center and Sanctuary is to rescue, rehabilitate, release and guarantee the wildlife in Costa Rica. It was founded in 1989 by a couple who wanted to do all they could for local wildlife, and the team continue to embody their vision.
"We are extremely grateful for this reward and Celeste winning the vote organised by World Animal Protection. We thank all the people who voted, the journalists, and those who shared this contest. All the staff are very happy, and of course, Celeste is very happy too.
The money from the prize will be used for purchasing medical supplies, venue improvements, facility repair, and purchasing equipment to monitor the animals we release in the wild.
Let's remember that wild animals have unique personalities, and they are not meant to live like pets.
We must guarantee a good life and welfare to those who can't be released back into the wild, as in this case, Celeste. We need to protect them.
Thank you."
We look forward to seeing the impact the 10,000 USD prize money will have on Celeste, Las Pumas Sanctuary, and all the animals under their care.
Keep up to date with Las Pumas Sanctuary on Instagram
A big thank you to all the venues who took part and showcased exceptional animals with their unique personalities. They truly are all winners in our eyes.
Awards
World Animal Protection's Wild Animal Unique Personality Award raises awareness that wild animals are sentient beings, not commodities.
News
Our much-loved Head of Wildlife Programmes, Audrey Mealia, sadly died of cancer on 14th October 2021. We're remembering her for the hugely positive impact she had on animals and people.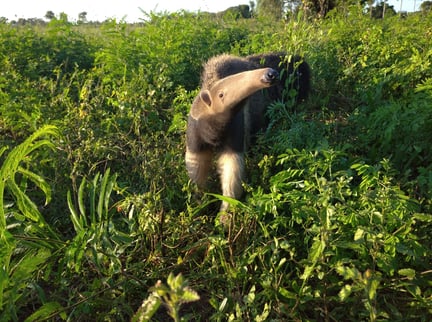 Find out about the winner and finalists of the Unique Wild Animal Personality Award 2022, celebrating the distinctive personalities of wild animals.